Artist David M. Kessler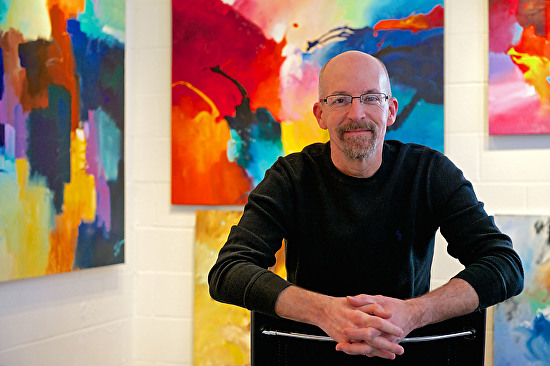 J. Sinclair Photography
David: The Story
David: The Kid - 1960-1979
I was born in 1960 on the same day as John F. Kennedy, Jr. (believe me that is all we had in common!). I grew up in the Roanoke Valley of Virginia surrounded by the Blue Ridge Mountains. I began my art career at about age 4 creating three dimensional objects usually from cardboard and transparent tape. I could always draw well and I was encouraged by a great uncle who purchased for me my first set of colored pencils and my first sketch book - and it was on!
David: College and The Hand Injury - 1979-1985
I developed an interest in architecture in high school and decided I wanted to be an architect. I spent my first year of college at Virginia Tech taking advantage of general course offerings and honing my drawing ability. In 1980 I transferred to the College of Architecture at The University of North Carolina at Charlotte to begin my architectural studies. The following year changed my life forever. I was working on a project in a woodshop and severely injured my right (dominant) hand. At the time no one, including the gifted surgeon who somehow managed to put me back together, knew how I would recover. I missed a month of school and spent a year in physical therapy. Today I have about 75% use of the hand and a hooked pinky finger as a reminder of that day. I went on to get married in 1984 and graduate college with honors in 1985.
David: The Architect - 1985-2013
For the next 28 years I worked as an architect (I am now retired) designing all sorts of building types. It was a fun way to make a living - but another passion was at work building a fire in my heart that could not be extinguished.
David: The Painter - 1991-Present
In 1991 my wife and I attended a watercolor exhibition in South Carolina. and I decided I could paint like that - even though I had never before picked up a paint brush. Upon returning to our home in Winston-Salem, North Carolina I purchased some watercolor painting gear and decided to take a class to learn how to use this new gear. After a very unfulfilling class I decided to teach myself to paint - so I did. I was working during the day as an architect, using my time at night and on weekends to paint. I gained quite a following with brisk sales for many years. Yet change was coming - again.
David: The Teacher and Abstract Painter - 2005-Present
In 2005 I had the opportunity to teach a watercolor painting class at a local art supply store and I knew after the first class that I wanted to teach. I knew that I needed to pass along my hard earned knowledge of painting and design to others. This is about the same time I began to notice a major shift in my work - it was becoming more abstract. This abstract shift combined with my desire to seek gallery representation pushed me to begin painting in acrylics on canvas. I was immediately hooked - as one of my collectors said "David and acrylics began dating and quickly fell in love." I had never felt so free as a painter. I realized it was what I was meant to do - this is my path, my bliss.
Today I teach painters in workshops across the southeastern United States to Loosen-Up Their Painting Styles by painting Bigger, Faster, Fresher,and Looser. I am a prolific painter and regularly create well over 100 paintings a year. My paintings have been shown in numerous solo and group exhibitions and are housed in corporate collections in North Carolina and private collections throughout the United States, Mexico, Canada and Europe.

If you would like to learn how to Loosen-Up your painting style, please click here to learn about David's Painting Workshops.
If you would like to receive David's monthly email newsletter filled with great painting information click here.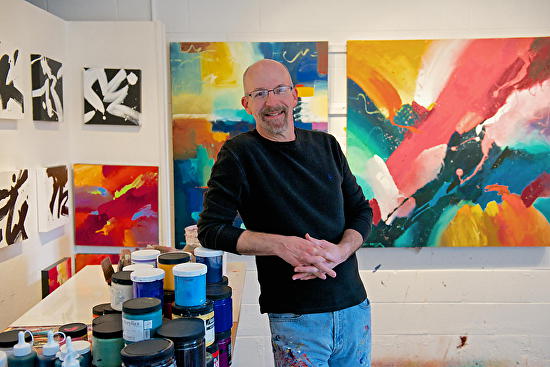 J. Sinclair Photography