Artist David M. Kessler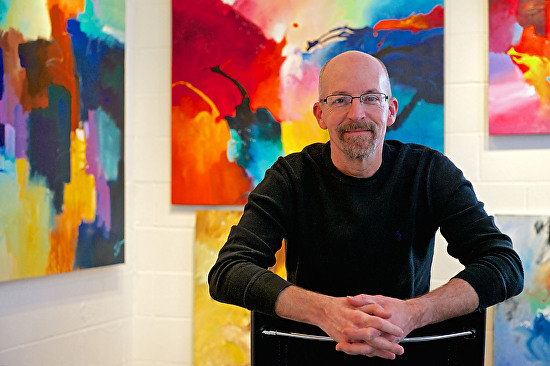 J. Sinclair Photography
"Through the process of abstraction I create paintings utilizing spontaneity as a conduit for creativity."
David M. Kessler is a contemporary watermedia painter and workshop instructor who has been an artist all his life, and a painter since 1991. His natural drawing ability was honed in his teen years and his affinity for design was developed during his years studying architecture at the University of North Carolina at Charlotte, where he obtained a Bachelor of Architecture degree. Largely self taught, David's paintings are inspired by both his love of color and the world around him: the bustle of the city, the quiet stillness of the forest, the beauty of the landscape or the rhythmic pounding of the ocean.
David's paintings are marked by bright colors, bold compositions, rich values and expressive brushwork which reveal his passion for painting. About his painting process David says, "to paint with such enthusiasm and passion you have to be free of fear. You can't fear letting yourself go; you can't fear what others will think; you can't fear bold color choices; you can't fear the unknown; and most of all you can't fear failure. You must trust yourself and your abilities. When I begin a painting I don't plan anything, and I have no idea what will happen or where my actions will lead. I do know that by relying on my instincts, and decades of experience I will find my way and hopefully discover something new. My emphasis is on the process of painting and not the outcome. It is the journey through the process where discoveries are made, expression is released, and your voice is developed."
"My painting process is messy because I am searching, looking, feeling, scraping, layering, pushing and pulling paint in hopes that I will reveal something new to myself (and others) through this process. The process of making my work is honest, raw and direct and shows itself on the canvas so that you can trace the movement of the hand and brush. Everyone who sees the work can vicariously experience how it was created, and this directness of expression keeps the work alive and animated even when complete."
David's paintings have been shown in numerous solo and group exhibitions and are housed in corporate and institutional collections in North Carolina and private collections throughout the United States, Mexico, Canada and Europe.

Artist Statement
Structure vs. Spontaneity
"The interplay of structure and spontaneity and the delightful contrast they produce informs my current body of work. As an artist I understand that a painting needs structure created by utilizing the design elements of line, shape, color, value and texture to form the framework that supports the painting. Structure alone however, does not create the delight in the work and for that I look to spontaneity. While structure is constrained and premeditated, spontaneity is unconstrained and unpremeditated, providing the perfect contrast."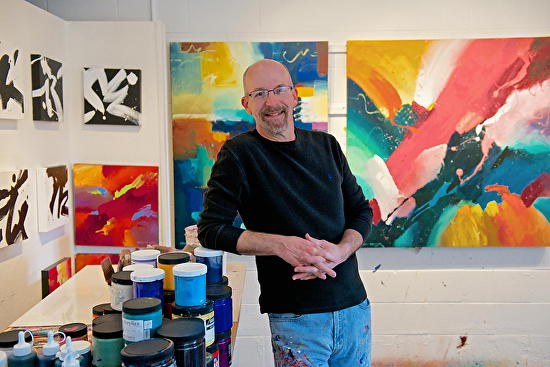 J. Sinclair Photography